Aries 11-12 A Flock Of Wild Geese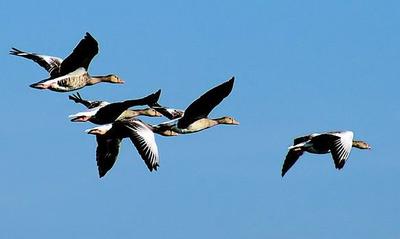 Fons Reijsbergen @ freeimages.com
A friend of mine has her Midheaven on this degree. I know that she loves her leisure time, loves to travel and move around, loves to be free. Funnily enough her North node (path of spiritual progression) is Scorpio 21-22 Hunters Starting Out For Ducks, and she often gets head-hunted for her job. I think of her horoscope as very much like a dilettante - loves to play in her interests (archaeology, food, travel, culture) however she eventually gets pinned down to commitments!

A daughter of another friend is high-school aged, and her Ascendent is on this degree. In high school, kids will divide into groups - the "birds of a feather" idea which is soooo important to teenagers; belonging. Also, the experience she is having (which is typical of most of us) is that she sees a lot of raw energy in her peers (negative emotions, unadulterated behaviour, as well as positive ones, a real mix) so very unsophisticated environment.

Does any part of the symbol resonate with you?

Share your experiences of this Aries karma!

Do any of the astrological bodies (Venus, Jupiter, Chiron etc) fall on this symbol for you? What has it meant in your life?

Please note that your comment may be edited for other visitors' experience. We aim to share knowledge and experience for greater learning.

Many thanks!
Return to Aries 0-30 Sabian Symbols.
| | |
| --- | --- |
| | |
| | |
| | |