Aries 2-3 A Cameo Profile Of A Man In The Outline Of His Country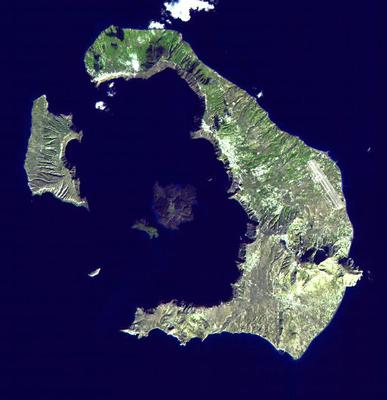 Santorini Landsat by NASA via Wikipedia Commons
I wonder if this symbol is about the identity of a person strongly attached to their "sense-of-place", whether it be the countryside they grew up in, or the culture they are from. I wonder if this is about being a "representative" of where you are from.

The picture above is taken from Wikipedia and is the result of the Santorini volcanic explosion. In the centre is the cameo of a man, but also note the outline of the island - is a ram? is it a bull? The early Minoans celebrated bulls (Poseidon), and Aries is the ram. Either Or?

Does any part of the symbol resonate with you?

Share your experiences of this Aries karma!

Do any of the astrological bodies (Venus, Jupiter, Chiron etc) fall on this symbol for you? What has it meant in your life?

Please note that your comment may be edited for other visitors' experience. We aim to share knowledge and experience for greater learning.

Many thanks!
Return to Aries 0-30 Sabian Symbols.
| | |
| --- | --- |
| | |
| | |
| | |