Aries 29-30 A Duck Pond And Its Brood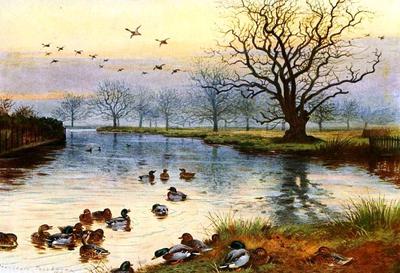 King Edward VII as a sportsman 1911 via Wikimedia Commons
A friend of mine has her Earth on this degree. This appears to manifest as a large family that extends within the geographic area of western Melbourne.
All the time I have ever known her, I have always enjoyed being around her large family as mine was so small. It appeared that the famiy gatherings were always happy and full of good-natured ribbing. My friend has usually rolled her eyes and always reminded me that these family gatherings were so exhausting, and now 20 years later since I met her, she seems over all of her family. This is because she feels trapped by them. She loves them dearly but she finds herself pulled into their health issues and minor dramas (no, it's not that bad, and she knows it's not that bad). Her Rahu/North node is 21-22 Scorpio Hunters Starting Out For Ducks and she has lately been calling her family out on their crap.
To me, a large close knit family might be claustrophobic because in any family structure our roles are defined. As babies, we need to belong and fit in, in order to survive. So we develop personality structures that the family finds acceptable - for example, if there is already a dominating personality, then two dominating personalities will clash and therefore the newcomer will develop an accomodating personality in order to survive within the family unit. As more and more people belong to the family unit, our personality roles within become more limited and more defined. To find out more about this, check out Michael Domeyko Rowland.

In order to grow, we need freedom to express the other personality structures that we repress within the family, so we seek outside influences that will allow us to safely express these (it might be the dominating side of a gentle person, who would be attracted to other dominating people who subconsciously teach this person how to use that repressed energy/personality safely or creatively). It may be through friends, travel, joining a community group or it may be just moving away. Often when someone changes within the group there is a lot of adjustment required in the group and the pecking order shifts and masks have to slip to show repressed personalities. The rest of the family therefore may find this change threatening or unwelcome. This is why sometimes we come home after a long trip or life away only to find that people in our hometown or family are not interested in everything we learned while away. It's like the pond is iced off and we are not welcome there!

Anyway in my friend's much more loving experience, the personality structure of her family members are inflexible enough that she feels suffocated, as much as she loves them and they love her. She compensates for this feeling by working as a geologist which takes her away out field or out of the country for weeks and months at a time.
In my friend's experience, this symbol is about the tension of the individual and the group, how we need the group to survive, even thrive and experience wonderful social connections, yet we also need to personally grow - which requires freedom and space to do so.



Does any part of the symbol resonate with you?

Share your experiences of this Aries energy!

Do any of the astrological bodies (Venus, Jupiter, Chiron etc) fall on this symbol for you? What has it meant in your life?

Please note that your comment may be edited for other visitors' experience. We aim to share knowledge and experience for greater learning.

Many thanks!