Cancer 8-9 A Tiny Nude Miss Reaching In The Water For A Fish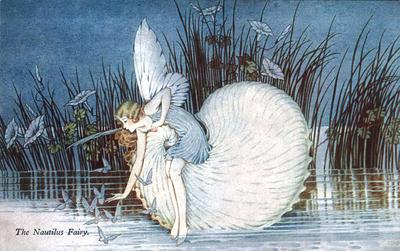 The Nautilus Fairy by Ida Rentoul Outhwaite
While the interpreted keyword for this symbol was "Inclination", the image I get is of someone innocently reaching for what they simply need.
Do you know that very young children think they are wonderful, and are able to survive better when lost in a forest because they rest when they are tired, eat when they are hungry, and explore their environment? They don't think they are lost, they think their parents are lost, because the young children know exactly where they are. (We lose that way of thinking when we reach around 7 years old, when we start to learn to panic and exhaust ourselves finding our way back when "we" are lost.)

What a lovely reminder of our essential inner child, that knows what s/he needs!

Does any part of the symbol resonate with you?

Share your experiences of this Cancer karma!

Do any of the astrological bodies (Venus, Jupiter, Chiron etc) fall on this symbol for you? What has it meant in your life?

Please note that your comment may be edited for other visitors' experience. We aim to share knowledge and experience for greater learning.

Many thanks!