Capricorn 9-10 An Albatross Feeding From The Hand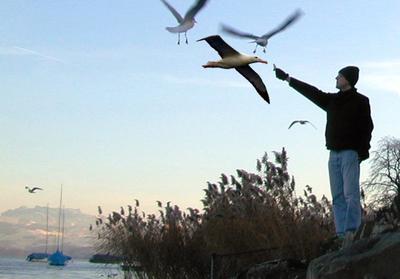 modified from Hans Widmer @ freeimages.com
One of my friends has a daughter with her Midheaven on this degree. Her daughter has raised a lot of money for the School of St. Jude as part of her fundraising effort to allow her to go to Tanzania as a student exchange programme. The minimum amount to raise is $1000, and this young girl has fundraised $8000. Clearly she has a talent in fundraising for charity! The donation aspect of this symbol is expressed in this girl's astronarrative.

I have my Moon on this degree. I believe this is a form of helping people that has annoyed others and finally now annoys me! I love to help people, but have recently found that I give away my energy and need to choose who and how I help. This symbol also reminds me of the recalcitrant or under-performing people I would be paired with at work, and managed to get them on my side with an empathic style. Sometimes I was able to effect a small result from them, but mostly they were consistently themselves. In these situations I felt like the social "buffer" between them and everyone else. But to be honest, I found the situation useful as a way of being "needed" in a workplace, as I was one of few people that could handle them.

Does any part of the symbol resonate with you?

Share your experiences of this Capricorn karma!

Do any of the astrological bodies (Venus, Jupiter, Chiron etc) fall on this symbol for you? What has it meant in your life?

Please note that your comment may be edited for other visitors' experience. We aim to share knowledge and experience for greater learning.

Many thanks!