Scorpio 16-17 A Woman The Father Of Her Own Child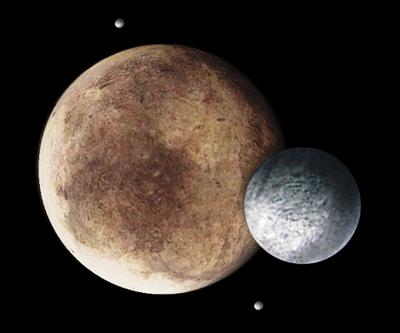 Pluto and moons art via Wikimedia Commons
My partner has his Sun and Venus conjunct on this degree. Something I notice about each other is how emotionally independent we are. We often do our own thing and are hapy for the other person to do the same. Both of us are equally capable of nurturing the kids while the other partner is away. If either of us want something, we'll just get it ourselves, there are no hints at Christmas time! (More like, I'll get my own present thanks, or, don't get me anything cos I know what I like!) Clearly my partner is independent and finds attractive the same in others.

Does any part of the symbol resonate with you?

Share your experiences of this Scorpio karma!

Do any of the astrological bodies (Venus, Jupiter, Chiron etc) fall on this symbol for you? What has it meant in your life?

Please note that your comment may be edited for other visitors' experience. We aim to share knowledge and experience for greater learning.

Many thanks!
Return to Scorpio 0-30 Sabian Symbols.
| | |
| --- | --- |
| | |
| | |
| | |