Scorpio 19-20 A Woman Drawing Two Dark Curtains Aside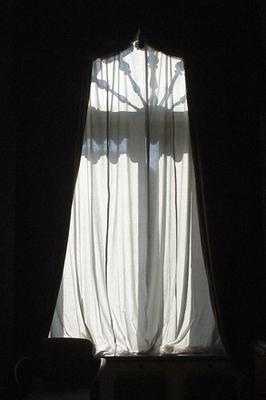 Griszka Niewiadomski @ freeimages.com
My friend Pam has her story below:

This symbol reminds me of my mother (Moon) when I was growing up,(family home).
The symbol is my Neptune.

She had curtains on all the windows, a double layer, a thin delicate veil for when she went out in the day and a heavy thick layer for night time. They were always fiddled with, cleaned meticulously twice a year, I can still see her lugging them into the laundry and upstairs to the bath tub for the big ones. Our house was a 70's suburban,modern, split level home, built on sand and below the main street. There was a long section of glass sliding doors and fixed window panels, of which you could not see into, unless you walked down our small downhill pathway and through the iron gate. But never the less, the curtain show went on. It was like a theatre, living with mum and the curtains. She became even more modern at one stage and bought timber slated blinds for the back area to go with the bright orange square carpet tiles with matching bar and stools. This gave her hours more fun, putting the blinds up and down, dusting, polishing and cursing the way they hung on the windows.

We would be in the garage waiting to go out and my father would become agitated,as 15 minutes had passed, he would huff and say "for christ's sake wheres your mother", of course she was in with her beloved curtains.
When I first bought my own place, you guessed it, "what curtains will you have on your windows", I'm sure mum was a frustrated movie actress, and interestingly now my niece at 10 says she will win an academy award one day and my daughter has just sent a clip into a television show for fun.
For the next 25 years I to struggled with the window dressing dilemma, but now I have coloured cling film and bamboo blinds which OMG yes you can see through slightly. I say to my now partner at times, you now people can see you, his reply to stand there longer. Yes, she does want cling film as well now, with the curtains just to add another layer. She either has serious opening up issues or should have been a window dresser.

Which brings me to my next point, I owned a shop for about 5 years and the best part was to dress the windows. I loved it, other shop owners would ask me to do theirs.

I do love the way my mum has taken particular care of attending to the details of life in the home and has worked tirelessly her entire life in this area. She has even trained my dad to vacuum and sweep every morning. I like to look at it that he is a buddhist sweeping the temple, of which my mother has cared for her entire adult life. That is the only house she has ever owned and it is as modern now as it was when it was originally built. It has changed with the times and been through many a renovation. But structurally its the same, her garden is magnificent and adored by everyone.

At times I think she has felt unseen and misunderstood, which I'm sure we all have at times in our lives. I am not as meticulous in that area but I have lived in many houses which were all old and rundown and I would renovate them and bring them back to life.

My Neptune is in the 9th house (higher learning), I am as fanatical about the universe and behind the scenes as my mother is with her windows.

Windows are to me like our souls, sometimes we need to protect them from peering eyes and sometimes we need to let the world see our inner natures.

So may you have many curtains, may your light shine through and may you a have a big bath tub to keep them clean!


Does any part of the symbol resonate with you?

Share your experiences of this Scorpio karma!

Do any of the astrological bodies (Venus, Jupiter, Chiron etc) fall on this symbol for you? What has it meant in your life?

Please note that your comment may be edited for other visitors' experience. We aim to share knowledge and experience for greater learning.

Many thanks!