Scorpio 26-27 A Military Band On The March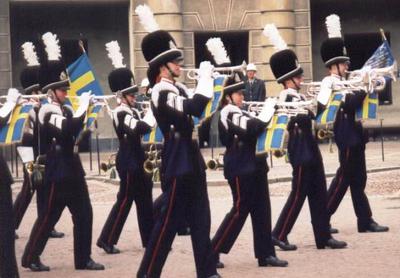 Military Band marching via Wikimedia Commons
A friend of mine has her Ascendent and her Jupiter conjunct on this degree. She is a youth worker who is especially gifted at fundraising and publicity. She has a long list of contacts in the community, and if interest needs to be drummed up for something, she can get a large crowd interested very quickly! She knows the right people for the right cause and uses facebook and print media very well to get the message out there. Recently, she helped her daughter raise $8,000 for a school and the target was only $1000. This was due to her mother pulling strings with publicity and helping her try all different ways to fundraise. Good thing she is using her power for good causes!!

Does any part of the symbol resonate with you?

Share your experiences of this Scorpio karma!

Do any of the astrological bodies (Venus, Jupiter, Chiron etc) fall on this symbol for you? What has it meant in your life?

Please note that your comment may be edited for other visitors' experience. We aim to share knowledge and experience for greater learning.

Many thanks!
Return to Scorpio 0-30 Sabian Symbols.
| | |
| --- | --- |
| | |
| | |
| | |