Taurus 10-11 A Woman Sprinkling Flowers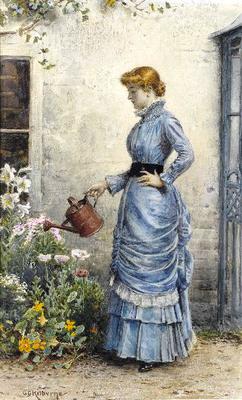 Watering the flowers by George Goodwin Kilburne via Wikimedia Commons
A friend of mine has her Sun on this degree. This has manifested by growing up in an old family in town with a strong matriarch who seems to be very Victorian era-ish, and for my friend this has given her a very suffocating knowledge of formality, gentility and strong gender roles.
Incidentally, she has read about the language of flowers which which fits with the very old-fashioned sensibilty of what can only be expressed directly or indirectly.

Sometimes she is a total hoot when she tells me about whatever dirty, dusty, action-adventure she's in at the State Emergency Service (her Earth in Scorpio 10-11 A Drowning Man Being Rescued) and then mentions how offended she was when a little old lady thought my friend shouldn't be there, because "that little old lady should know not to say it even if she thinks it!"
Meanwhile men are swearing and spitting near her and that's okay! She make me laugh, I love it :)

One of the things that used to cause her pain was how suffocating this "genteel" upbringing was, because she thought her path in life was to be a housewife. Any time she expressed a desire to travel or do something interesting, there was a lot of negative feedback from her extended family. So she remained stuck and unfulfilled. She just thought there was more to life than doing what all the women in her family did, which was to marry and have children (she found this expectation of life too small for her). On the other hand, this upbringing has been very safe, and she has been part of a strong family network in town, as well as providing for her every physical need. She is fortunate to have a stable background where she can pursue her interests, once she aligned herself and decided what she really wanted to do, ignoring other people's opinions.


Does any part of the symbol resonate with you?

Share your experiences of this Taurus karma!

Do any of the astrological bodies (Venus, Jupiter, Chiron etc) fall on this symbol for you? What has it meant in your life?

Please note that your comment may be edited for other visitors' experience. We aim to share knowledge and experience for greater learning.

Many thanks!