Taurus 21-22 White Dove Over Troubled Waters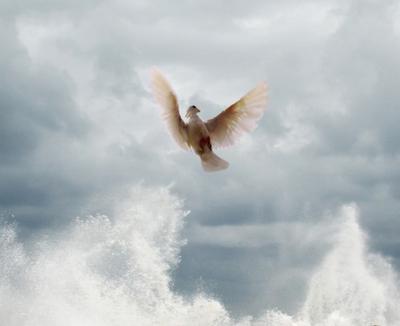 Manu Mohan and Marco Caliulo @ freeimages.com
My friend Pam's story is below:

Taurus 21 - 22 White Dove Over Troubled Waters

This is my North Node and one in which I have struggled to understand.

Just after my entry into the world my uncle claimed "has this child been born without a voice box?" In my younger years I was continuously stressed about other peoples perception of me. Would they like me, could I think of enough things to talk about so there would not be that, you know awkward silence. (I read recently that every 20 mins in a conversation there will be a break, as the mind needs a rest, maybe like turning our mobile phones off). I was nervous speaking in public to where my mind would go completely blank, as if I was completely dumbstruck and mute.
When I would have a wish on a fallen star, it would be "could I please be able to talk to everyone",find something in common. (3rd house of communication - squaring the moon in the 12th and south node in the 9th house).

I have had a few past life regressions explaining my communication skills - that of an irish catholic nun (and I can imagine a mute one at that), a buddhist in Nepal, etc etc.

I went recently to see the movie Everest, I enjoyed it so much, I went again, and could possibly go again. Not because I'm an adventurer or like heights whatsoever and not because I like heroic journeys, as most of the mountaineers died on that trip. It sparked me to look at the human spirit and the ways in which we interact in the world around us. We all have mountains to climb, mountains to conquer and mountains to be in awe of. My mind, as George Mallory says "is in a constant state of rebellion, that will always be so". (As my IC is, A woman Activist Haranguing), this I now accept as part of my mountain.

Always moving, shifting and trying understand its depths and keep the top soil fresh and alive with vegetation. I believe we all travel at our own pace towards peace, we cannot rid ourselves of past people and traumas, but understanding that part of our life brings the dove over the troubled waters.

This often then turns our attention to another piece of our and the universes grand plan, which of course the waters stir again, followed by the process of assimilation.

I have often heard it said god is in everything, god is the process and god is love. I think we all get tired with our feelings and struggles in life, a little like small turtles racing towards the water, with anticipation and excitement, which so often turns to troubled and threatening reality, some survive, some die and some live to very old ages, in which to become an icon, to take it slow and enjoy the ride (very Taurean).

I often find people with very static views on the world and preach their peace they have claimed (like a flag placed in the top of Everest), extremely dull, and become eventually arthritic in their thought processes if left unchallenged for too long. What was once a moment of adventure and conquering becomes old, tired and painful.

Questions are an essential part of life, even if they turn your emotional nature turbulent from time to time, it keeps your life alive and evolving into new forms in which you sometimes never dreamed.

I sometimes wonder, where did our belief that life is "in the sky and after death" emerge from. Is this literal or was it an image for birth, death and rebirth, the christian story which seems to be interpreted, christ's birth, then untimely death at 33, followed by not a rebirth, but a vision in spirit form (which we all now see as the way to go). Human beings have until very recently only lived relatively short lifespans, therefore they often have not had the opportunity to experience forces of nature on their systems for prolonged periods. As we are living longer, it becomes increasingly challenging for people to understand a process they have never experienced before.

As I have aged, I have found my life and thoughts have changed dramatically, I don't feel
I am more peaceful but I enjoy my life more now even though I have more unanswered questions.
Earth's landscape is constantly changing under our feet, perhaps this is the clue to humans evolution. Christ questioned the beliefs of the status quo, which of course created, quite a lot of turbulent waters around him. Coral thrives in turbulent waters and dies when waters become still and stagnant.

My dove comes from understanding my and others troubled waters, and sometimes this is a very long flight, so I hope the dove has a few resting spots along the way.


Does any part of the symbol resonate with you?

Share your experiences of this Taurus karma!

Do any of the astrological bodies (Venus, Jupiter, Chiron etc) fall on this symbol for you? What has it meant in your life?

Please note that your comment may be edited for other visitors' experience. We aim to share knowledge and experience for greater learning.

Many thanks!