Taurus 12-13 A Man Handling Baggage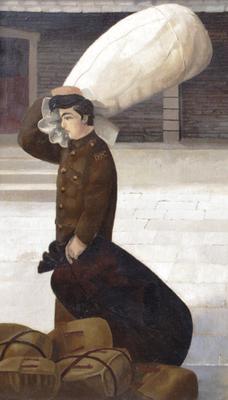 Sorting and Moving Kitbags by Sir Stanley Spencer via National Trust UK
A Painter friend of mine has her Ascendent on this degree. She has told me that she constantly wonders what other people are thinking or meaning (i.e. looking for their real moods) when interacting with them. This is due to her mother being very passive-aggressive when she was growing up. She is always looking for answers to her own moods and loves seeing psychotherapists, or learning about spirituality, or analysing herself and others. She has done this for so long that she is very strong and capable of dealing with obstacles in her personal life.
To me, she is very skilled at handling emotional baggage!

Does any part of the symbol resonate with you?

Share your experiences of this Taurus karma!

Do any of the astrological bodies (Venus, Jupiter, Chiron etc) fall on this symbol for you? What has it meant in your life?

Please note that your comment may be edited for other visitors' experience. We aim to share knowledge and experience for greater learning.

Many thanks!


Return to Taurus 0-30 Sabian Symbols.
| | |
| --- | --- |
| | |
| | |
| | |